hbRecon maximizes accurate revenue capture through the integration of hospital clinical registry & coding data sources. Utilizing this combined dataset, the hbRecon platform algorithmically analyzes and determines a recommended Diagnosis Related Group (DRG) code.
Clinical registry data represents one of the most detailed and accurate records of a hospital procedure or event. Due to the extreme granularity and complexity of this dataset, it is extraordinarily difficult for coders to analyze and consume this information accurately without a process to audit the record and receive assistance from the clinical team. hbRecon facilitates that process by translating the clinical data into the level of specificity a coder would need, automatically flagging potential mismatches, and fostering cross-departmental communication between clinical and coding teams.
Please note: hbRecon is a separate toolkit from the hbAnalytics platform, powered by IBM-Cognos, as these reports and processes are not run into the hbAnalytics engine. However, they work in unison and query/use overlapping data sources.
The hbRecon Phased Approach
Phase 1.

Integration of Clinical Registry, Financial & Coding Data Sources

The clinical registry, financial & coding data sources must be integrated & aligned in the heartbase hbCOR platform via interfaces and/or extracts from the clinical data registry platform & the financial billing and coding system.

Phase 2.

hbRecon Report Investigation, Review, & Submission

Once the data is aligned and integrated, the hbRecon toolkit can be immediately run against all complete & coded registry data. Heartbase will provide feedback and insight on a weekly basis during the investigation phase. Data is presented in a wide array of reports from DRG Summary Reports to ICD-10 Procedure & Diagnoses Detail Reports. Users have the flexibility of reviewing all relevant clinical registry and financial & coding data in one location.

Phase 3.

Reconciliation & Process Review

Cases are reviewed by the clinical team, and then submitted for secondary review by the hospital coding and compliance teams.This process will vary site to site, network to network. Ultimately there are four primary objectives: 1) Review Documentation & Coding, 2) Recode & Re-bill as Indicated, 3) Identify Outliers with Complex Coding, & 4) Reabstract Clinical Data, as necessary.
Key Features
Example hbRecon Scenarios
Rebill Scenario#1: The impella was coded as assistance only, but it was inserted.
DRG Assignment as found in Coding System: 246 – PERCUTANEOUS CARDIOVASCULAR PROCEDURES W DRUG-ELUTING STENT W MCC OR 4+ ARTERIES OR STENTS
Automated hbRecon Mismatch Findings: The impella was coded as assistance, but an additional code for the insertion was missed. Coding added that procedure code.
Recommended hbRecon DRG Assignment: 215 – OTHER HEART ASSIST SYSTEM IMPLANT
Was the Case Recoded & Rebilled:  Yes.
Monetary Value of Recommended Change: Increased value of case, $77,316.60 versus $19,874.00 – a positive difference of $57,442.60.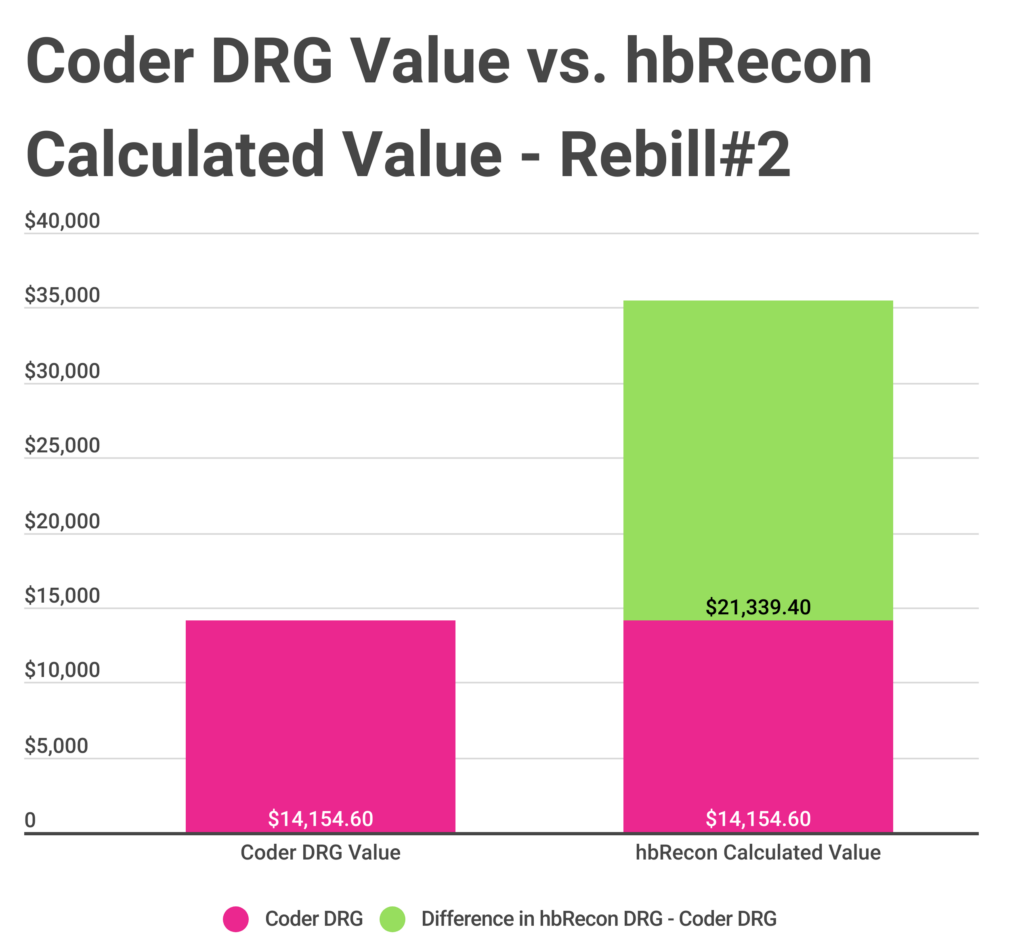 Rebill Scenario#2: The case was missing the CABG.
DRG Assignment as Found in Coding System: 263 – VEIN LIGATION & STRIPPING
hbRecon Mismatch Findings:  The case was missing the CABG, and the associated detailed proved that out. The coder added 021109W & 02100Z9.
Recommended hbRecon DRG Assignment:   235 – CORONARY BYPASS W/O CARDIAC CATH W MCC
Was the Case Recoded & Rebilled:  Yes.
Estimated Value of the Rebill:  Increased value of case, $35,494.00 versus $14,154.60 – a positive estimated difference of $21,339.40.