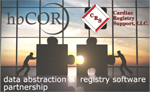 Cardiac Registry Support, LLC (CRS) has partnered with heartbase® to provide a streamlined user experience for data abstraction, auditing, and reporting. They can provide abstraction for STS, NCDR, CMS/The Joint Commission, GWTG, and more! CRS can also work with your team to provide customizable training for staff to include: data collection, abstraction, and report generation.

SpectraMedix, a leading provider of solutions that accelerate the transition to fee for value- and risk-based models, and heartbase®, the premier database for cardiology healthcare, have formed an alliance that expands heartbase®'s portfolio of cardiology performance metrics to include analytics for tracking and reducing cardiology patient readmissions, as well as electronic Clinical Quality Measures (eCQMs) for cardiology. These capabilities will be made available to existing and new clients of both SpectraMedix and heartbase®.

PMSquare is comprised of industry-leading analytics experts who are rigorously screened for technical mastery and creative problem solving. This expertise is backed by leadership with extensive business acumen in Financial Services and Information Technology. As a Premier IBM Business Partner, PMsquare will work with heartbase to guide you from software acquisition to delivery of analytics solutions to revolutionize your clinical and financial data reporting.