Harness results-oriented reporting that addresses concurrent procedure noting, national registry submissions, process improvement initiatives, reimbursement submission, and clinical research.
Offering a comprehensive range of reporting options at point of care, physician, practice, region, and network levels, reports are focused on utilizing data to provide keen insight into procedure and performance.
hb Procedure Notes
Key Features
Dictationless Procedure Noting
Adherence to Health Policy Statements and IHE Standards for Procedure Noting
Elimination of Transcription Time
Customization of narrative available for fields specific to procedure
Inclusion of billing codes for accurate billing information
Provision for Electronic Signature
Harmonization to National Registry Data Elements
Chart Review Process Reduction
Concurrent Data Capture Workflow
Fully integrated with all heartbase® event data — ACC, STS, AHA, GWTG, CMS, and The Joint Commission
Industry standards for data normalization using SNOMED-CT, RxNorm, LOINC, ICD-10, & CPT
HL7 C-CDA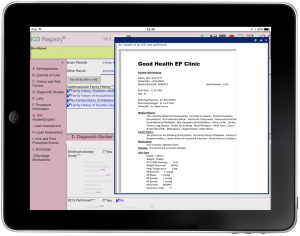 hbSurgical OP Note: is a customizable reporting tool constructed using discrete STS data elements along with "real time" surgeon dictation. Paperless OP Notes improves workflow and maximizes reimbursement as billing codes are included in the narrative. The coronary tree is produced graphically for EHR and patient distribution.
hbCathPCI Procedure Note: Through ADT/hemodynamic interfaces and concurrent data entry, this electronic note provides clinical data derived from the cath procedure narrative utilizing ACC-NCDR data elements, ICD-10, SNOMED, LOINC, RxNorm and CPT/HCPCS codes. Allows for embedded coronary tree diagram with stenosis level detail.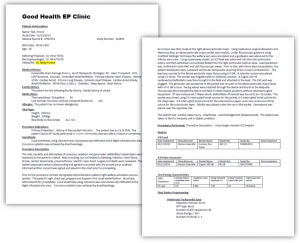 hbEP Procedure Note (Implants/Explants): Capturing data from ADT/hemodynamic/EP recording system interfaces and concurrent data entry, this electronic note fully integrates clinical data derived from the cardiac EP ICD procedure by creating a narrative utilizing ACC-NCDR data elements, ICD-10, SNOMED, LOINC, RxNorm and procedural/diagnosis related codes.
hb Reporting
Key Features
Over 400 Standard Reports
Multi-site Executive & NQF Measure Reporting by Network, Region, Hospital, Practice, & Physician
Financial Integration
Predictive Analytics — SPSS, SAS, MiniTab
Patient Level Drilldown
Longitudinal Ad Hoc Reporting — No Table Joining Required
MD Pass/Fail Scorecards
STS Risk Adjusted Reporting
Appropriate Use Criteria (AUC) for PCIs
Medication Analysis
Complication Metric Reporting
Mission Lifeline Reporting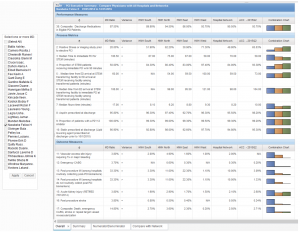 Report run time is streamlined with hbQ which enables the user to generate multiple report requests, create a report queue and utilize a batch processing feature on the server. Reports may be displayed in IBM-SPSS® which is native to heartbase® or in multiple output formats such as SAS™, MiniTab™, and Microsoft Excel™.
hbCOR Dashboards are the revolutionary way to improve clinical outcomes and the financial bottom-lines in one dynamic, easy to use package.  Using the IBM-Cognostm Suite, hbCOR transforms clinical & financial information into an easily managed task.  With scalability from the Physician Practice, Clinic, Hospital/Region/Network; financial data can easily be integrated with hbCOR clinical models.